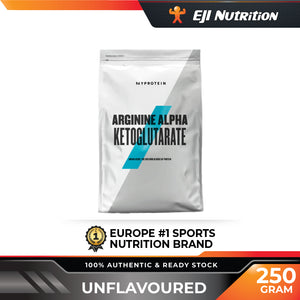 Product Description
Arginine Alpha-Ketoglutarate (AAKG) is a salt of the amino acid arginine and alpha-ketoglutaric acid, a precursor to nitric oxide, and popular ingredient in pre-workout formulas.
And what makes our AAKG different? Well it's made from two arginine molecules attached to one alpha-ketoglutarate molecule — compared to many 1:1 forms on the market.
Key Benefits
Contains Arginine and Alpha Keto-Glutarate
Produced in a 2:1 ratio (Arginine and Alpha Keto-Glutarate)
Arginine is an essential amino acid
Why Choose?
Amino acids occur naturally within protein, which helps to build and repair new muscle, and that's important whatever your fitness goals.Getting amino acids from your diet can be expensive and time consuming — shopping, prepping meals, as well as cooking.
Suggested Use
Mix 1 small scoop (3g) with your preferred amount of water or fruit juice, shake and consume. For best results, mix with minimum 50ml liquid. Consume once daily.  Powder settles over time, we recommend weighing for most accurate measure. 
Store in a cool, dry place away from direct sunlight.
Ingredients: Arginine Alpha Ketoglutarate
Produced in a facility which also handles milk.
Do not exceed the stated recommended daily dose. This product should not be used as a substitute for a varied, balanced diet and a healthy lifestyle. Keep out of the reach of young children.