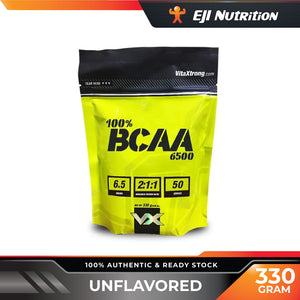 Product Description
CLINICALLY PROVEN, 2:1:1 THE BEST RATIO OF BCAAS
BCAAs are branched-chain amino acids, which refer to L-Leucine, L-Isoleucine, and L-Valine. To build up more mass, research has proven that these essential amino acids should be at a ratio of 2:1:1.
BCAAS 6,500 MG/SERVING, NO FILLER!
Don't waste your time with BCAAs 1,000 or 2,000 mg/serving… 100% Pure BCAA 6500™ provide PURE BCAAs without artificial colors or sweeteners. The efficacious dose 6,500 mg/serving is Great for building muscle.
PHARMACEUTICAL GRADE WITHOUT HEAVY METAL CONTAMINATION
There are two grades of BCAAs in the market. The food grade BCAA still permits heavy metal contamination. The 100% Pure BCAA 6500™ has 99.99% rate of purity without harmful contamination.