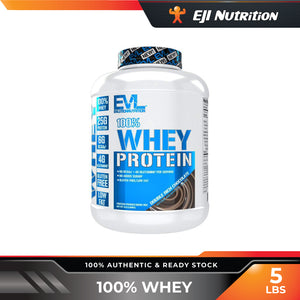 Product Description
BUILD + TRAIN + RECOVER Evlution Nutrition's 100% Whey is the ideal muscle food to supply essential amino acids to fuel muscle growth and help you recover faster and stronger. 100% Whey provides the highest bioavailable form of protein that absorbs quickly to speed recovery as well as fill added protein needs in between meals with best in class milkshake taste!
 
You give 100% so get 100% muscle building & recovery support from Evlution Nutrition's 100% Whey to ensure what you put inside creates the best results outside.
100% MUSCLE FUEL AND RECOVERY
Not all whey proteins are created the same. Evlution Nutrition's 100% Whey Protein is made with a triple filtered cross-flow micro filtration process that prevents the protein structure from becoming denatured, allowing the native amino acid profile and protein factions to be maintained while removing excess impurities.  
100% Whey has 25 grams of protein with 6 grams of BCAAs included per serving making it the perfect choice to boost muscle building, performance and recovery.
LEAN MUSCLE GROWTH
INCREASE ENDURANCE
MUSCLE REPAIR
ACCELERATE RECOVERY
FAST ABSORBING
EASY TO DIGEST
Directions: Add 1 scoop of 100% WHEY to 6 oz of your favorite liquid such as water, skim milk or unsweetened almond milk. Stir with a spoon or shake in a cup for 15-20 seconds until protein powder fully dissolves.
Warning: Before consuming 100% WHEY seek advice from a physician if you are unaware of your current health condition, have any pre-existing medical condition, taking any medication, planning any medical procedure, contemplating pregnancy, pregnant, or nursing. Reduce or discontinue use if any adverse reactions occur such as but not limited to gastrointestinal discomfort. 100% WHEY is only intended to be consumed by healthy adults 18 years of age and older. Keep out of reach of children and pets. Store at room temperature.