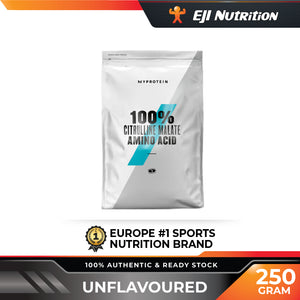 Product Description
Citrulline Malate is a unique combination of the amino acid citrulline and the organic salt malate. It's ideal for people involved in high-intensity exercise such as weightlifting and sprinting.
Key Benefits
Unique blend of ingredients
Great for high-intensity workouts
Often used in pre-workout formulas
Fantastic value for money
Why Choose?
Amino acids naturally occur in protein, which helps grow and maintain muscle — super-important whether you're a keen boxing enthusiast or just love hitting the weights.
Our convenient powdered formula means you can simply add to your favourite whey or pre-workout shake and start your day off with an all-important boost.
Nutritional Information
Serving Size - 7 1⁄2 mini scoops (2g)
Servings Per Container - 125 (250g)
 
Per Serving
Citrulline Malate
 
 
2 g
The nutritional information is based on the Unflavoured version, when choosing an alternative flavour the nutritional values may vary.
Suggested Use
When to take 100% Citrulline Malate Amino Acid?
Twice a day, add 7 ½ mini scoops (2g) to water or fruit juice, then shake and enjoy. Use twice daily.
What does 100% Citrulline Malate Amino Acid work well with?
Impact Whey Protein — created with premium, grass-fed whey, it's packed with an impressive 21g of protein per serving, delivering the protein you need from a high-quality source. Ideal for any training goal.
Do not exceed the stated recommended daily dose. This product is a food supplement and therefore should not be used as a substitute for a varied diet and a healthy lifestyle. Store in a cool dry place, out of the reach of young children.
Ingredients
Made in a facility that also handles Milk, Soy, Egg, Gluten and products thereof.
Unflavoured: L-Citrulline DL Malate 2:1 (100%)