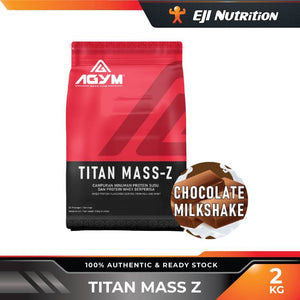 Product Description

WHY TITAN MASS?
Sports Nutrition Supplements. Extremely effective for building and increase STRONG MUSCLE MASS, and RAPID WEIGHT GAIN for every type of sports workout or high intensity activities. Suitable for both men and women aged 18 onwards.
1.      TITAN MASS – IMPROVED FORMULA – Whole Milk Instantised Protein, Milk Protein Concentrate, Whey Protein Concentrate (Protein content per serving: 14g Protein via Test Combustion Method).
Allergen information contains milk. Gluten FREE.
Contains no banned substances Laboratory Approved by World Anti-Doping Agency.
Serving suggestions: 3 Scoop mix with 400ml - 500ml water. 1-3 times per day. Best to consume before and/or after workout.
Tastes delicious – No feeling of nauseous/vomiting. No side effects.