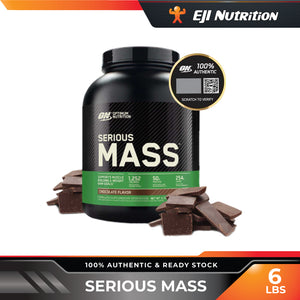 Serious Mass Overview
Optimum Nutrition's Serious Mass may be the weight-gainer to end all weight-gainers. With an unbelievable 1250 calories per serving, one shake's worth of Serious Mass could feed a small village. OK, not really, but Optimum Nutrition wasn't kidding around when they named this weight gain powder Serious Mass. It's not a product for everyone. But by the same token, intensively-training younger athletes, or those already in peak condition don't have average metabolisms or nutritional needs. For these athletes, getting enough calories to maintain their muscle mass and strength is hard enough, let alone consuming enough to grow quality mass. Ordinary protein powders and meal replacements don't cut it for these users. A weight-gainer would be a better choice, but most of them are just glorified protein powders, with added carbs and an arbitrarily increased serving size. So, don't mess around with generic weight gainers. If you really need calorie-dense supplement to help put on some size, Serious Mass is much better choice for you. Serious Mass is the most calorie-intense shake on the market, packing an unbelievable 50 grams of a mass-building protein blend - more than 8 whole eggs - into each 1250 calorie shake. Besides protein, Serious Mass is also fortified with creatine, glutamine, glutamine peptides, vitamins and minerals, everything you need to build lean mass, provided you're training hard. Granted, not everyone needs that kind of nutritional density, so keep in mind that you can use smaller servings of Serious Mass, if that suits your needs better. You can expect great taste and mixability from Serious Mass, since it's made by protein powder mega-giant Optimum Nutrition. Nobody offers more flavors, or better flavors, in their protein line than Optimum Nutrition. So while you don't use a product like Serious Mass for its taste, it's nice to not have to force a shake down on account of lousy or lackluster flavor. Mix with water, or with milk for even more calories and protein.

Serious Mass Description from OPTIMUM NUTRITION
HIGH-CALORIE WEIGHT GAINER
Serious Mass is the ultimate in weight gain formulas. With 1,250 calories per serving and 50 grams of protein for muscle recovery, this instantized powder makes the ideal post-workout and between meals shake for sizing up your goals. Serious Mass provides you with the tools you need to pack on the pounds and - when coupled with serious weight room effort - develop your physique to the fullest.

Vanilla




Serving Size

2 Heaping

Scoops

(334

g)


Servings Per Container 8

Amount Per Serving In Water

% Daily Value

Calories

1272

 

Total Fat

4g

6%*

    Saturated Fat

2.5g

13%*

Cholesterol

105mg

27%*

Total Carbohydrate

254g

84%*

    

Sugars

20g

†

 

Protein

50g

100%*

 

Sodium

400mg

 

Potassium

850mg

 

Vitamin A

375mcg

100%

Thiamin

2.2mg

50%

Riboflavin

3.4mg

235%

Niacin

20mg

250%

Folate

400mcg

 

Vitamin B6

3.2mg

250%

Vitamin B12

4mcg

 

Biotin

50mcg

100%

Pantothenic Acid

3.5mg

250%

 
 
 
 
 
 

Calcium

630mg

59%

Iron

5mg

44%

Phosphorus

460mg

43%

Iodine

150mcg

100%

Magnesium

140mg

35%

Zinc

15mg

100%

Selenium

70mcg

100%

Copper

1mg

80%

Manganese

2mg

100%

Chromium

120mcg

100%

Molybdenum

75mcg

100%

Sodium

430mg

17%

Potassium

970mg

75%

Creatine Monohydrate

1g

†

L-Glutamine

500mg

†

Glutamine Peptides

500mg

†

Choline (As Choline Bitartrate)

250mg

†

Inositol

250mg

†

PABA (Para-Aminobenzoic Acid)

5mg

†

* Percent Daily Values are based on a 2,000 calorie diet


† Daily Value not established

Ingredients:

Maltodextrin

, Protein Blend (Whey Protein Concentrate

, Calcium Caseinate

, Egg Albumin

, Sweet Dairy Whey)

, Artificial Flavors

, Vitamin And Mineral Blend (DiPotassium Phosphate

, Magnesium Aspartate

, DiCalcium Phosphate

, Calcium Citrate

, Ascorbic Acid

, Niacinamide

, Zinc Citrate

, Beta Carotene

, D-Calcium Pantothenate

, D-Alpha Tocopheryl Succinate

, Selenomethionine

, Copper Gluconate

, Ferrous Fumarate

, Manganese Amino Acid Chelate

, Thiamin Mononitrate

, Pyridoxine Hydrochloride

, Riboflavin

, Chromium Polynicotinate

, Folic Acid

, Biotin

, Molybdenum Amino Acid Chelate

, Cholecalciferol

, Potassium Iodide

, Cyanocobalamin)

, Medium Chain Triglycerides

, Lecithin

, Acesulfame Potassium.
Allergen Information: Contains Milk, Egg, Wheat (Glutamine Peptides) And Soy (Lecithin) Ingredients.

Directions For Serious Mass:
Add two heaping scoops of Serious Mass to a blender filled with 24 oz (710 mL) of water. Blend for 45-60 seconds. Then add a few ice cubes and, if desired, other calorie-contributing ingredients and blend for an additional 30-45 seconds.

Tips: Mixing two scoops of Serious Mass with 24 oz (710 mL) of nonfat or low fat milk instead of water will give you a thicker, creamier, higher-calorie shake. New users may find if beneficial to begin with 1/2 of a serving daily for the first week and then gradually increase to 1 or more full servings several times a day.

Serious Mass is a substantial weight-gain supplement that can be used to feed serious calorie needs in a variety of different ways.

Between Meals: Drink 1/2-1 serving of Serious Mass between meals to maintain positive nitrogen balance and support a high-calorie diet. Post-Workout: Begin drinking 1/2-1 serving of Serious Mass 30-45 minutes following exercise to support maximum recovery. Before Bed: Drink 1/2-1 serving of Serious Mass about 45-60 minutes before bed to provide nutrients to recovering muscle throughout the night.

Note: For best results use Serious Mass combined with intense weight training (3-5 times per week) and a sensible whole foods diet. Also, keep in mind that sufficient recovery between workouts impacts your ability to gain lean mass. Allowing at least 48 hours between workouts involving the same body parts is recommended.

Warnings: Keep out of reach of children. Do not take this product if you are pregnant or nursing a baby. Check with a qualified healthcare professional before using this product if you are under 18 years of age or if you have any known or suspected medical condition(s) including diabetes, hypoglycemia, and/or if you are taking any prescription or OTC medication(s).