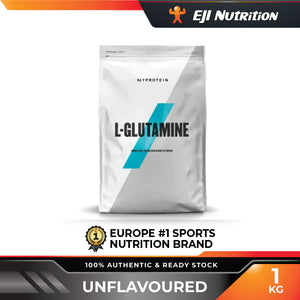 Product Description


How did we design L-Glutamine?
Our supplement powder is 100% Glutamine and can easily be mixed with water, juice and other supplements, such as BCAA and protein powders.


What are the Key Benefits?
Due to its popularity amongst a collection of athletes from bodybuilders to cyclists, L-Glutamine is one of our best selling products on site. It is found naturally in most meat, fish and eggs, making our supplement a perfect alternative for vegetarians and vegans.

Now available in 10 refreshing, fruity flavours
Is this product for me?
L-Glutamine is an excellent choice of supplement for anyone engaged in a long-term physical training program, from amateur cycling to professional bodybuilding. 


When should I consume L-Glutamine?
For maximum benefits, our team of expert nutritionists recommend consuming 5 grams, 1 to 3 times daily; once in the morning, pre and post-workout and before bed.
Serving Size - 1 tsp (5g)
Servings Per Container - 200 (1kg)
Nutritional Information
 

Per Serving

L Glutamine

 

 

4.35 g
Ingredient: L Glutamine (87%), Natural Flavouring, Sweeteners (Sucralose, Acesulfame-K), Colour (Allura Red AC). Warning: Contains Allura Red AC which may have an adverse effect on activity and attention in children.
Suggested Use: To reap the benefits of our L Glutamine powder add 1 1/2 small scoops (5g) to 250-350ml of water or juice in a Myprotein shaker before, during and/or after exercise.