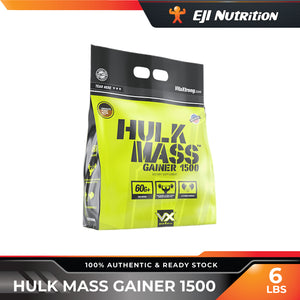 Product Description
FORMULATED FOR SKINNY GUYS WITH FAST METABOLISMS
Hulk Mass Gainer is an extreme mass gainer specifically formulated for building massive muscle. Each serving packs more protein, higher-quality calories, and the absolute best mass building ingredients to help you pack on the muscle and look absolutely pumped. If your fast metabolism is burning up everything you eat before you can build an ounce of muscle, start building the size you want today with Hulk Mass Gainer.
WHY CHOOSE HULK MASS GAINER™?
Today most Weight Gainers in the market confuse the consumer. VX Hulk Mass Gainer™ has the 3 Key Factors of a TRUE weight gainer: - 60 g of protein from 7 Highly Bioavailable Protein Sources that enhance Anabolism to build Massive Muscle. - Low Glycemic Carbohydrate Blend - Maximizes Recovery after your intense workout with Fast, Normal, and Slow Digesting Healthy Carbs - Vitamin and Mineral blend - Enhances Recovery and Helps to Absorb more Nutrients.
HIGH QUALITY CALORIES
Hulk Mass Gainer™ is rich in the absolute highest quality, muscle-­building calories available today. Each serving packs over 1,500 nutritionally dense calories derived from 5 ultra- premium proteins, the absolute best growth­ enabling carbohydrates, and healthy fats such as Conjugated Linoleic Acid (CLA) and Medium Chain Triglycerides (MCTs).
5 PREMIUM PROTEIN SOURCES
These proteins help fight back against your naturally fast metabolism. Hulk Mass Gainer™ delivers 60 blended grams of fast, medium, and slow digesting proteins. This blend is specially formulated to feed your muscles with amino acids now, and for up to 8 hours, so you can build muscle around the clock instead of burning it up.