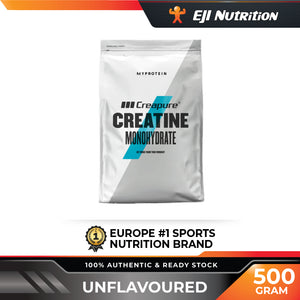 Product Description
Creatine increases physical performance in successive bursts of short-term, high-intensity exercise making this the perfect supplement to boost your training and help you reach fitness goals.
Key Benefits
Highest level of creatine monohydrate
Proven to boost performance
Consistently tested to be impurity-free
Easy to add to shakes
Why Choose?
Creapure® is widely known to be the purest and finest level of micronised creatine monohydrate available on the sports nutrition market — it undergoes rigorous testing to make sure it's free from impurities, and the result is a 99.99% creatine content.
Nutritional Information
Amount per serving:
3g Creapure® (Creatine Monohydrate)

Please note this nutritional information is taken from the unflavored version. When choosing a flavored version it will reduce the Creapure® (Creatine Monohydrate) content by approximately 0.75g per serving
Suggested Use
When to take Creapure® Creatine?
Immediately pre- or post-workout — just mix 3g of your favourite flavour with a protein shake, which supports the growth and maintenance of muscle, or simply add to water, milk or juice.
Ingredients
Unflavoured: 100% Creapure® (Creatine Monohydrate)