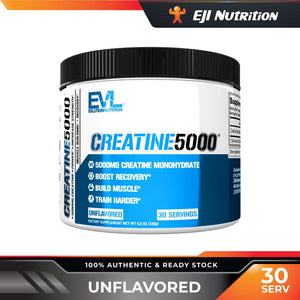 Product Description
#1 IN PERFORMANCE AND MUSCLE BUILDING
When it comes to building muscle, creatine monohydrate is the most researched form that's known as the #1 supplement for improving performance in the gym.
Evlution Nutrition's 100% Micronized Creatine 5000 has 5 grams of pure micronized creatine monohydrate to give your muscle cells the capacity to produce more energy to boost performance, power, strength and muscle growth. And it's always made with the highest quality to help make sure what you put inside produces the best results outside!
THE POWER OF PURITY
Our 100% Micronized Creatine is made only from pure Creatine Monohydrate formulated to the highest standard and produced in the USA under stringent quality controls that meet certified GMP (good manufacturing practices) standards.
Creatine boosts strength and training performance while increasing muscle mass, even during intense training. Best known for its effects on muscle gains, Creatine Monohydrate has been proven in studies to benefit people of many different ages and fitness levels.
Directions For CREATINE5000:
As a dietary supplement, mix 1 scoop of CREATINE5000 in 8 oz. of water, juice, or protein drink of choice post-training.
Warnings: Not for use by those with pre-existing medical conditions; those taking any medications or those under the age of 18. Keep out of reach of children and pets. Store in a dry place away from direct sunlight.