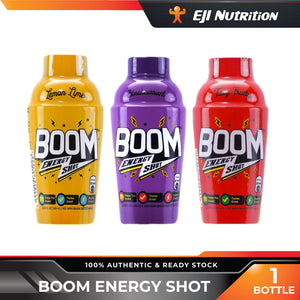 Product Description
BUSY MADE EASY
Boom Energy Shot is an instant energy and immune booster, beats fatigue, increases focus and concentration; with one shot!
It is affordable and easy to get in stores and online. Boom Energy Shot comes in 3 tasty flavours and it is low sugar. The practical size of this product is convenient for you to be on-the-go.​
BOOM ENERGY SHOT contains a dose of caffeine and vitamins in a shot, giving you the boost of energy you need. 
You have one shot! 
That's all it takes. 
Your body cannot produce vitamin B6, so you must obtain it from foods or supplements. It plays important roles such as improving brain function ,  boost immune system and control mood regulation.
It works with vitamins B6 and B12 and other nutrients to control blood levels of the amino acid homocysteine. B9 helps to produce energy and help nervous system function properly.
Also known as cobalamin, is an essential vitamin that your body needs but cannot produce. It helps to improve mood, symptoms of depression, gives energy boost, and support your bone health.
Recommended Use:
Consume one Boom Energy Shot bottle for maximum effect. Do not exceed two bottles daily consumed several hours apart. Consume or discard any remainder within 72 hours after opening.  Does not require refrigeration.
Caution: CONTAINS CAFFEINE. 
Caffeine content is 180mg per serving 60ml. Not recommended for children, pregnant or nursing women and persons sensitive to caffeine.