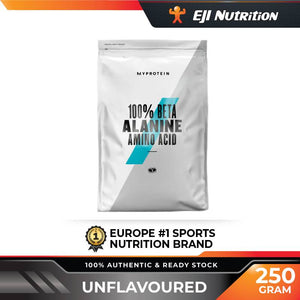 Product Description
Beta-alanine is a non-essential amino acid and is the only naturally occurring beta amino acid. It's ideal for anyone involved in sports that require explosive actions such as sprinting, weight training, or boxing, as well as anyone doing prolonged endurance exercise.
Key Benefits
Naturally occurring
Often used in pre-workout formulas
Perfect for all workouts
Convenient-to-take
Why Choose?
Perfect for anyone participating in sports or gym activities, beta-alanine is one of our most popular products — and is one of the 20 amino acids required in protein synthesis. Protein helps grow and maintain important muscle.It's Unflavoured, so it's great for adding to your favourite shake.
Nutritional Information
Serving Size - 1/4 tsp (1.5g)

Servings Per Container - 166 (250g), 333 (500g), 666 (1kg)
 
Per Serving
Beta Alanine
 
 
1.5 g
The nutritional information is based on the Unflavoured version, when choosing an alternative flavour the nutritional values may vary.
Suggested Use
When to take 100% Beta-Alanine Amino Acid?
Just add 1.5g to water, juice, or your usual shake twice a daily, preferably between meals.
What does Beta-Alanine Amino Acid work well with?Impact Whey Protein — add your beta-alanine powder to our high-quality, super-popular whey protein to help you achieve your workout goals.
Ingredients
Made in a facility that also handles Milk, Soy, Egg, Gluten and products thereof.Unflavoured: Beta Alanine (100%)